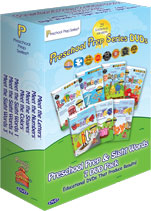 People are always surprised when they hang out with my girls (2 and 4) and notice that they know all of their letters (and their sounds), their numbers (how to add them and subtract them up to 10), their shapes, colors, sight words, etc... and I simply cannot take much credit for this training. Sure, we read books at home and teach them through everyday activities, however I never seem as effective as my handy assistant, the DVD player! We have a DVD player in the car and I decided that if we were going to treck around town with the "backseat babysitter"on, at least they would learn something! So I purchased all of the
Preschool Prep Company Videos
and through EXTREME repetition, my girls now know all there is to know about the basics! We also "treat" ourselves to the Leapfrog videos and explore with "
Math Adventure to the Moon
", "
Math Circus
", "
Letter Factory
", "
Talking Words Factory
" and "
Let's Go To School
". The girls love the videos and I have their captive audience while they are strapped to a car seat, makes learning pretty easy! I encourage you to start these early if you choose to use this "assistant", my youngest has watched them her whole life with her big sister and she soaks it all up and loves it!