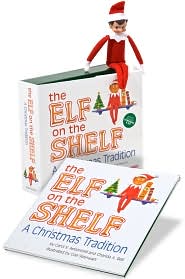 Well, we have a new family member- Eddy! He is our special elf friend who arrived last night and will be leaving us Christmas Eve. Frankly, I have been avoiding this whole "Elf on the Shelf" phenomenon- I like to downplay Santa as much as possible. I don't love the idea of lying to my children about a jolly man who sneaks into the house and leaves gifts...if you act nice for a month. I would rather tell them that we celebrate Christmas because God gave us the ultimate gift of Jesus Christ sent in human form to save us from our sins and just like we do not deserve this amazing gift, they- in no way- earn their Christmas gifts. It is a blessing from God, he provides for us so amazingly and because we love them, we bless them with a few special presents under the tree as an outpouring of God's perfect love.
However, my girlfriends basically told me that I am no fun and I need to get "the elf"! So, I compromised and we are doing the elf and Jesse Tree (
previously mentioned
) so I can teach them about the real meaning of Christmas and still have fun with a new tradition. Can I just say...the girls are obsessed with Eddy! We got the package with the book and they were mezmorized as we read the book and learned about our new friend. Ellie has been chatting with him since he arrived, even requesting gifts for her new baby sister Milly. I am not going to lie, I even told her that he would not come back if she wakes up too early in the morning- he doesn't travel when she is awake. And it really worked well, she stayed in her bed until I came to get her this morning! (Thanks Eddy!) The bottom line is, the girls LOVE this new tradition, I love seeing them have so much fun with it and lets just hope Dave remembers to move him around while I am in the hospital this week- they will be devastated if he stays put! Izzy woke up this morning and said "where's the elf?" Don't you love good friends who remind you to loosen up a bit!
I am sure I will be posting more this week- Baby Milly is coming Wednesday....so much to do...hair, nails, laundry, eating out- we are so excited!