Well, the time has come! If I am being honest, I have been avoiding this for a long time. I read a ton of articles on "chores" and I know it is good to have the kids learn how to do things around the house- but frankly- I think it is horrible..not for them..for ME!!! It is just one more thing I have to hear them whine about, it is never efficient, it is never as lovely, etc.. I am just being honest with you. I know, I know.. as Ann Landers says, "It is not what you do for your children, but what you have taught them to do for themselves that will make them successful human beings." It is one of my favorite mom quotes- but there is just not enough time or energy in the day for this (see below, one of 5000+ chore charts found on Pinterest)
SO..I came up with a plan for US, because, at the end of the day, it has to work for our family and all of our gifts and personalities! I notice that Ellie (6) and Izzy (4) really LOVE "jobs" at school- who is the light helper? who is the line leader? who is the Husky Helper?, etc... So I thought, why don't I capitalize on their love for a "job" and assign jobs for the day instead of chores. It is a start, a foundation, that will hopefully grow into learning necessary skills around the house!
Here is my plan: The girls get one "chore" job (although we don't call it that) and one fun job every day. (Sunday's are a day of rest- day off!) The "fun"job is always something that helps alleviate bickering, i.e. movie helper is great because they wont fight over who gets to choose a movie because the "movie helper" gets to pick! This is also a tool for consequence- if you are not doing your job as the laundry helper- you don't get to have a say on the music until you have done what has been asked of you. You get the idea.
Here is what I chose FOR US- (the beauty is that it can change or grow each week- the element of surprise is great- they will never know what their job is the next day!)
1. Laundry Helper//Music Helper
2. Kitchen Helper//Movie Helper
3. Toy Helper (mess management)//Snack Helper
4. Bed Helper//Mail Helper
5. Flower Helper (watering)//Book Helper
6. Light Helper//Bible Helper
Every family has a different set of priorities and issues- this is what will be helpful and manageable for us! I am not asking too much, but over the course of the week they will be learning new things and it is not going to be overwhelming for me to keep up with and enforce.
To display the daily jobs, I thought I would use a white board and then...I found these:
{Here is our little display- I chose the chalk decal- it is awesome- you stick it on most any surface and it will not remove paint, etc.. I want them in every room (self control Jenica!!!)}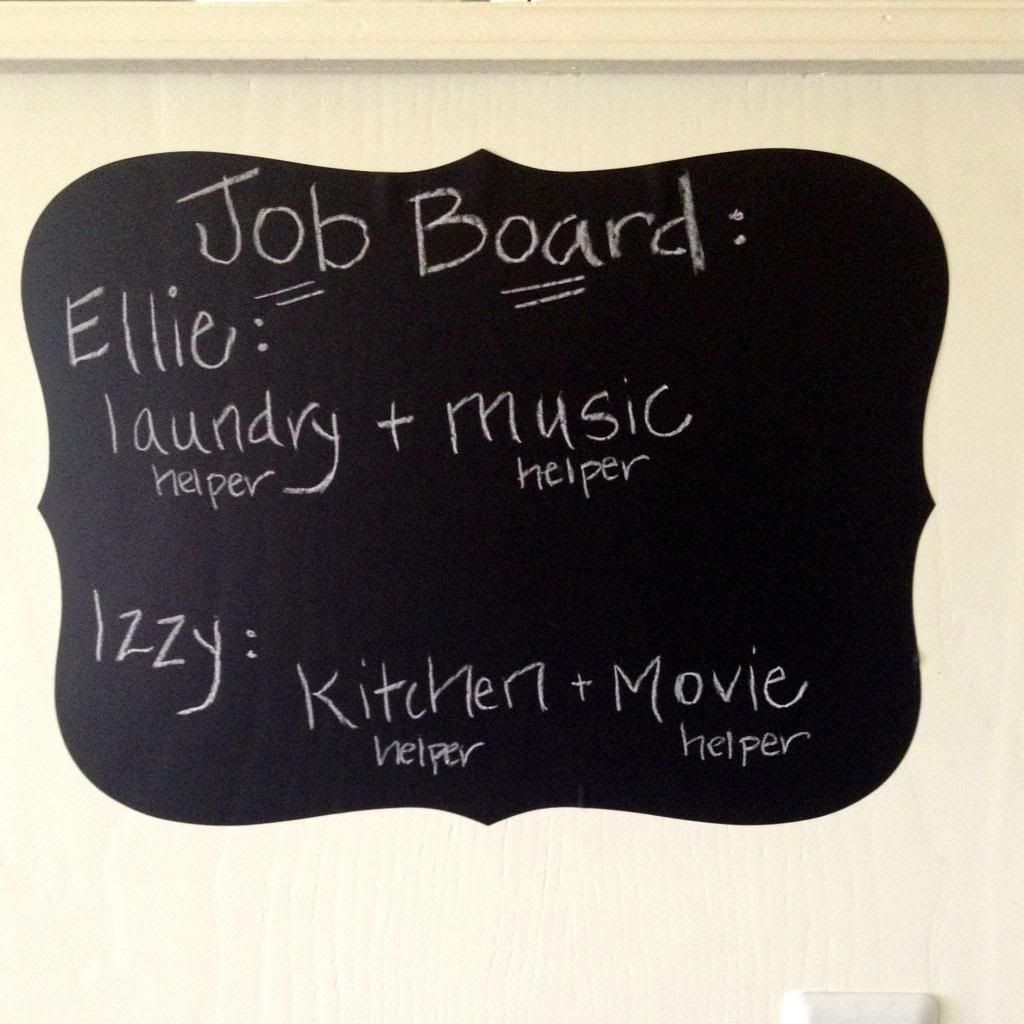 That is it- simple and perfect for us! The girls are really excited for their jobs- Milly's job...for now...is just to survive the day! haahaaa