Lots to catch up on! If you follow me on Instagram (@jenicamcm) you have a hint at our weekend, but here is the scoop:
Meet Elizabeth:
As previously discussed, we are downplaying Santa
- which means I needed to find a way to ditch Eddy the Elf (our elf on the shelf). Nothing against you if you have an elf- they are darling and the girls love Eddy! The issue with me was, if we are truly going to not discuss Santa, we can't very well have an elf around the house who flies to report to to him every night. Also, I am trying to minimize the amount of lying I do with the girls- lying about a stuffed elf flying to report on their behavior every day just isn't working for me. SO...We sat the girls down on Sunday and wrapped up a little angel ornament for them and explained that Eddy would not be coming this year...but this angel would be in a new place every morning when they wake up! When they find her, she is a reminder to thank God for a blessing. Since Angels are all around us, this angel was a reminder of that and God sees the way we are serving and loving because He is here with us too. They loved the angel and named her Elizabeth. We also discussed the Shepherd boxes (previously discussed
HERE
} and they are LOVING it. They have been doing all sorts of fun things to earn their money for the shepherds pouch- Ellie is especially into it! The girls woke up this morning and ran to find Elizabeth and without me reminding them, said what they were thankful for! I could not be more pleased with the "transition"- they ate it up! Here she is:
My BABY Turned 2!
Usually, I do a full theme birthday party for the girls. I really do love it, I love to have guests over and celebrate! However, 2 days after Thanksgiving...not happening! We did a cake for her at Thanksgiving dinner and then celebrated all day Saturday. We looked at Christmas lights, had donuts, opened gifts, played in leaves, drank out of silver goblets, ordered pizza...it was a fun, relaxing day!! Here are some pics: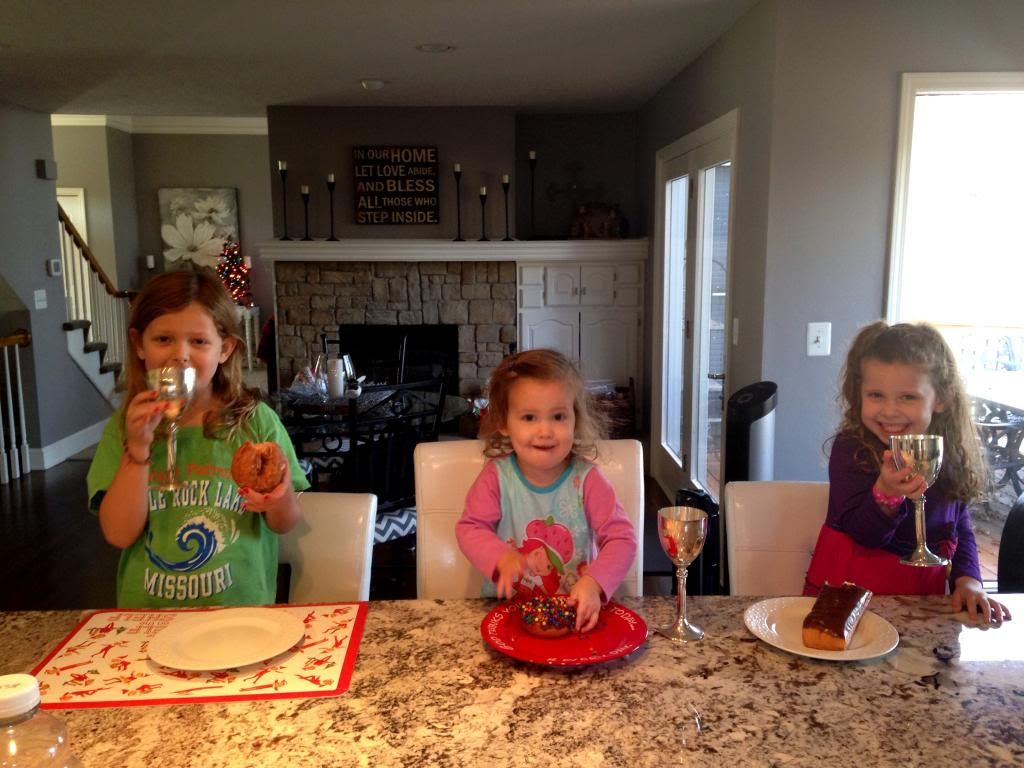 That is a LOT of Leaves!
My husband has been gone a lot lately and with my surgery, when he is home he has been a little busy with the girls! This weekend was Leaf weekend- we had to get them bagged up! When we purchased our home they promoted it as "forest like backyard", we thought that was delightful! We learned that, it is delightful..until the leaves fall off or the trees need trimming. Trees are high maintenance! However, the girls LOVE the Leaf pile! If you follow on Instagram you saw my video of Dave chucking the children into the leaves- they said it was the best day EVER! Here are some pics of their leaf adventures!